15 Best Tips for First-Time Amtrak Train Travelers
By Amtrak Vacations
Wednesday, June 9, 2021
Read time: 7 minutes
Did you know approximately 63 percent of travelers have never traveled by Amtrak before? For many first-time Amtrak travelers, the journey completely changed their perspective on what it's like to vacation by train.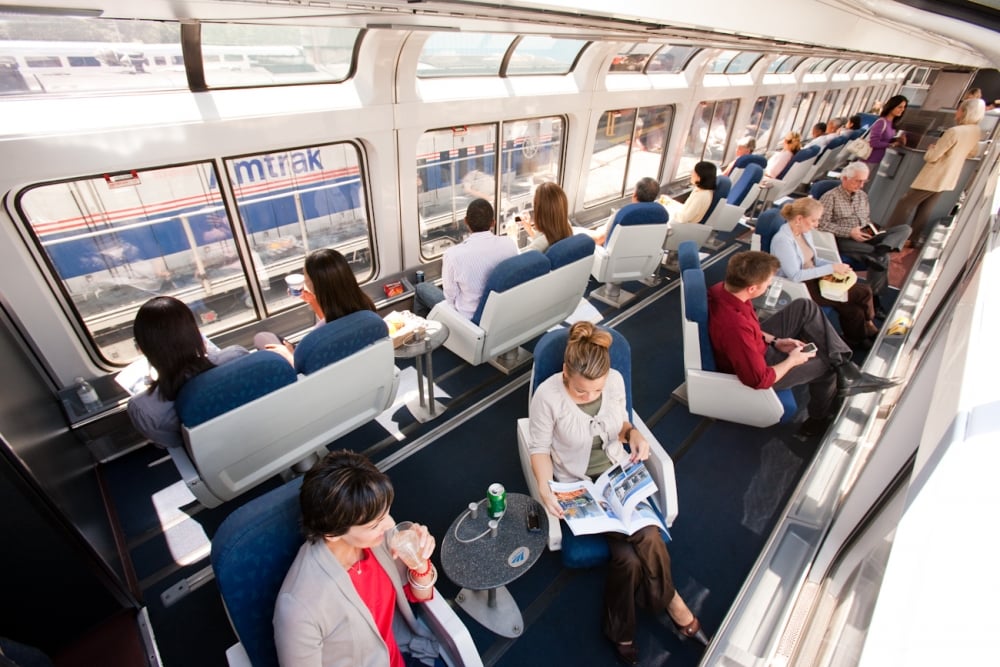 Never enjoyed a vacation by train? You're missing out. Then again, you also have a lot to look forward to when you finally do book that bucket list experience. There are plenty of reasons our guests choose to travel by train and not fly—or drive. Aside from simply climbing aboard and letting someone else do all the driving and navigating, it's a chance to enjoy landscapes and moments of adventure you'd never have the opportunity to otherwise.
Did you know approximately 63 percent of travelers have never traveled by Amtrak before? For many first-time Amtrak travelers, the journey completely changed their perspective on what it's like to vacation by train.
Regardless of the length of your train vacation or which destinations you'll be visiting, there are some tips you can follow and simple preparations you can make to help you achieve a smooth, headache-free trip. After all, who doesn't want their first train journey to be hassle-free, comfortable, and memorable?
15 Best Tips for First-Time Amtrak Train Travelers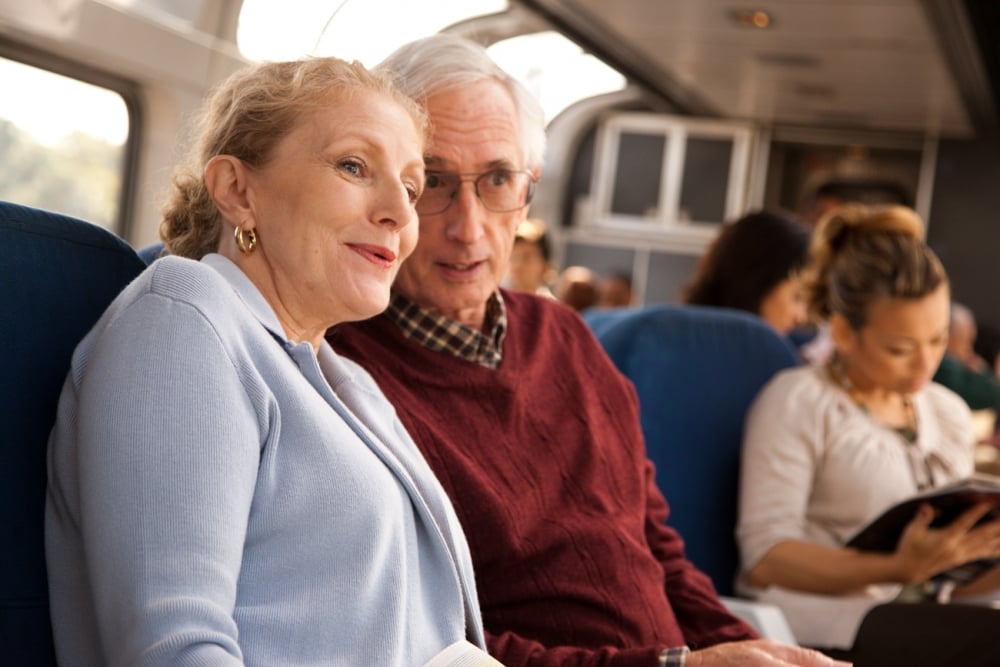 1. Make Yourself a Pre-Departure Checklist
Probably one of the most stressful aspects of traveling is getting ready for the trip. There are quite a few things worth arranging and planning while you're still at home to ensure you'll have a smooth train journey. Can you imagine spending more than 36 hours onboard a train without having planned ahead? We can't.
• Identification - Your photo ID or passport.
• Train Tickets - Make sure you have your eTicket on your electronic device or your printed paper ticket.
• Travel Insurance - Protect yourself against unforeseen travel misfortunes.
• Medications - Bring your medication with you, especially if you know you'll be requiring it en route to your destination. However, you must bring it in your carry-on and be capable of administering the medication yourself.
• Personal Care Items - Soap, toothbrush/toothpaste, shampoo/conditioner, deodorant, lotion, hand sanitizer, and more.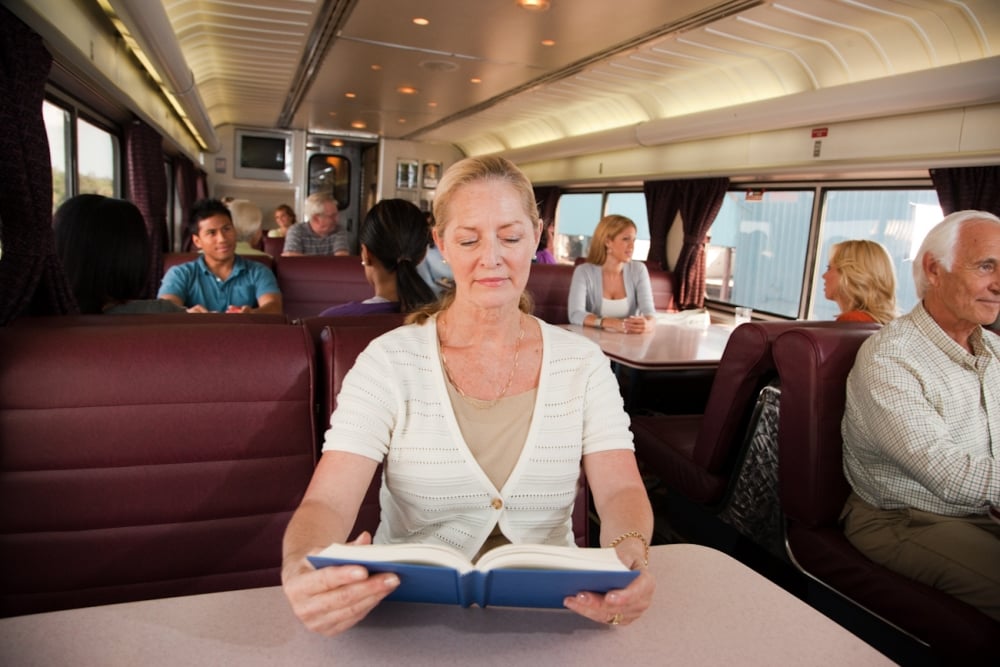 • Other Travel Essentials - What are your travel must-haves? While the scenery onboard is sure to keep you entertained, you'll want to bring along a few essentials to help pass the time. Books, audiobooks, a tablet, board games or deck of cards, noise-canceling headphones and good music playlists, a journal, binoculars, and a camera to capture the passing landscapes are all great choices.
• Get Comfortable - Whether traveling in Coach or your own Private Sleeping Car accommodations, comfort is key. Long train trips can exhaust even the most seasoned travelers. Options include a fleece blanket, pillow, eye mask, earplugs, and slippers for those middle-of-the-night bathroom trips.
2. Bring Your Own Snacks and Alcoholic Beverages
You're allowed to bring your own food and beverages onboard the train. This is especially important if you have special dietary needs or restrictions. You can eat/drink these at your seat, in your private Sleeping Car accommodations, and the Sightseer Lounges. Although alcoholic beverages are served onboard you can carry on your own private stock as long as you follow the train's guidelines. Your private stock can only be enjoyed from the comfort of your Sleeping Car accommodations. Bringing on your own water is highly recommended.
3. Only Pack What You Can Carry (Unless You're Checking It)
When traveling by rail, chances are you will be the one hauling your baggage down narrow aisles, up steep steps, and on and off the train. Bring only what you can carry yourself. If you need to make quick train changes, including those that occur in the middle of the night, you'll be thankful you didn't bring a different pair of shoes for each day of your trip. Limit your carry-on baggage to two pieces per passenger. Remember: You can get assistance from Amtrak's Red Cap service at select stations for a helping hand.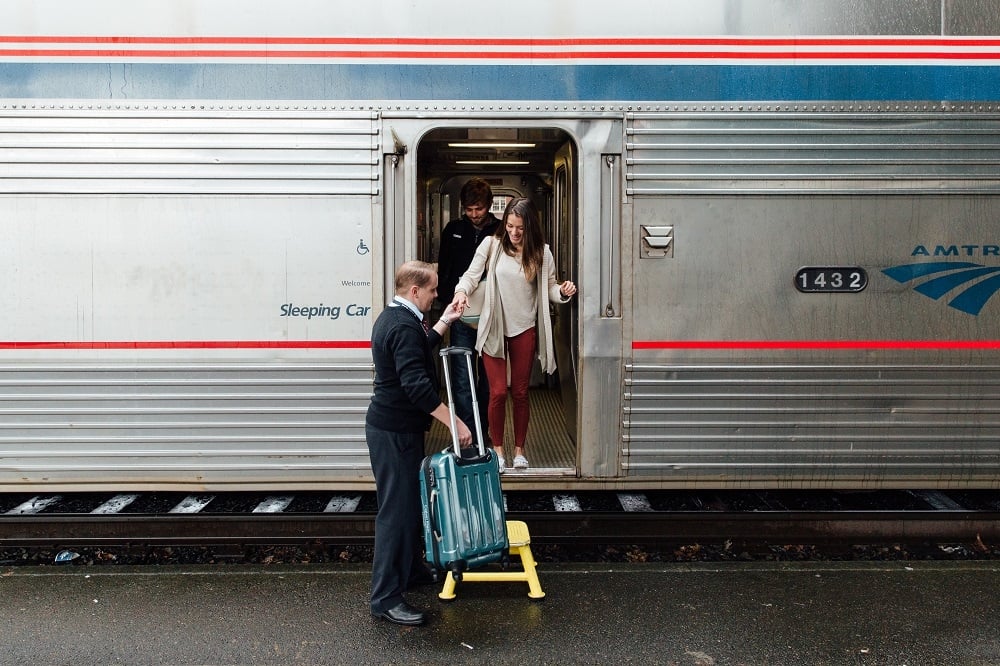 4. Early to Rise, Early to Bed
Wake up early and try not to stay up too late. This will not only keep you refreshed and prepared to embark on your adventures once you arrive, but it will also maximize the number of sights you'll see onboard during daylight hours.
5. Wear Comfortable Clothing
For the most enjoyable experience, especially during a long-distance journey, you'll want to wear clothing that is super comfortable, along with warm socks. Oftentimes, the train cars can get cold, even if you're not seated by the doors that connect the cars together. Once onboard, you'll find that many people prefer to relax and walk around in their pajamas. Keep in mind that you don't have to be too concerned with what you look like as you're traveling by train for the experience, not to impress your fellow travelers.
6. Plan for Train Delays
Because Amtrak trains share the tracks with massive freight trains (which get priority), you should plan for unexpected delays during longer, cross-country routes. For example, if you're taking the California Zephyr from Chicago to Denver, your train may have to stop right before the Moffat Tunnel to allow a freight train to pass. Be patient ... it's all about the journey.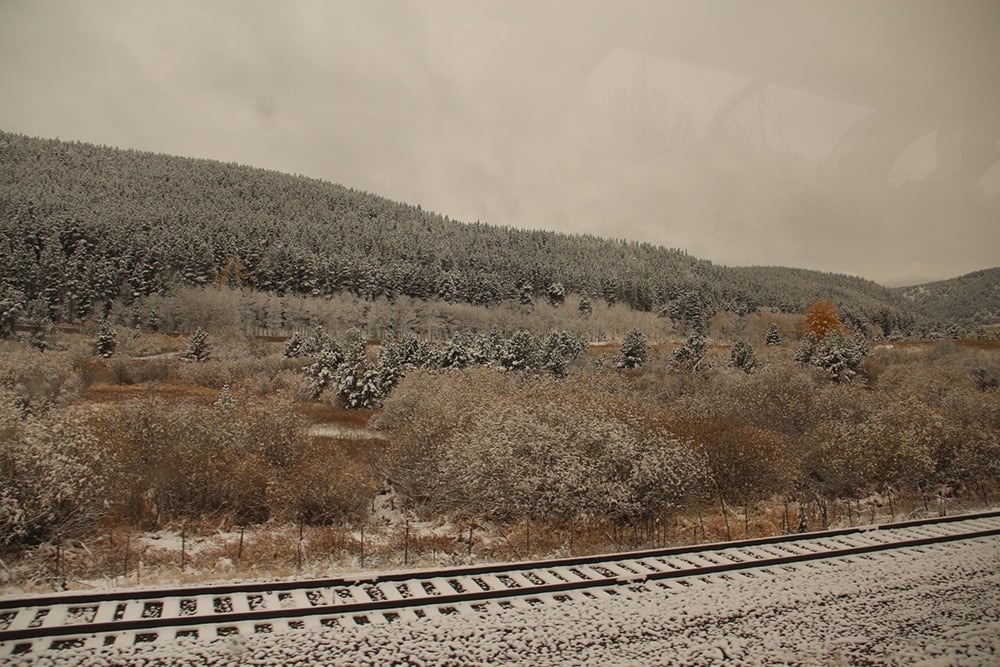 7. Not All Station Stops Are Created Equal
Throughout your trip, the train will make planned stops at various stations. It's important to realize which stops are rest stops and which are meant for dropping off and picking up passengers. For those wishing to stretch their legs or have a smoke (there's no smoking onboard the train), it pays to know if a certain stop is a designated rest stop where you're allowed to get off. Amtrak strictly enforces this rule. You also wouldn't want to get left behind in the middle of nowhere.
8. Meet Your Fellow Train Passengers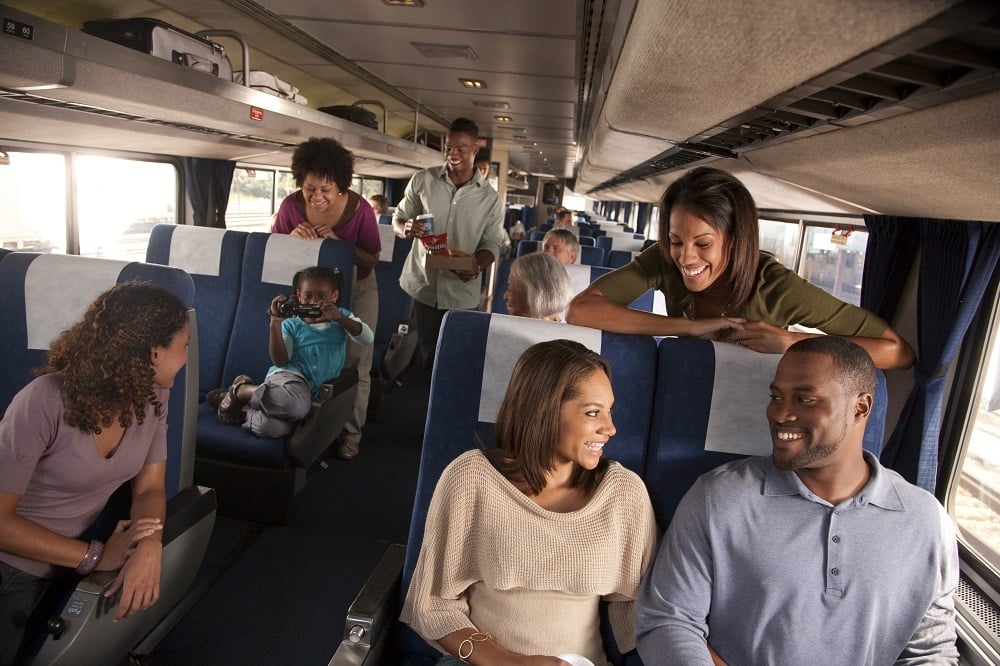 We're sure you've heard this before, but one of the most wonderful aspects of train travel is the opportunity to meet people from all over the world. Some of them are even first-time riders just like you! The best place to meet people or make new friends is in the Lounge or Dining Car.
9. Stay In the Know with the Amtrak App
Want to streamline your travel experience? Get the app on your mobile, which is available on iPhone, Android, and Windows. It's a great tool for checking the status of your train, locating a station in a specific destination, and presenting your train ticket. You'll never have to worry about missing out on important information.
10. The Bathroom (If You Didn't Book a Bedroom)
If you don't plan on walking in on a stranger using the toilet, always knock before entering the bathroom. Some people don't lock the door behind them. And always lock the bathroom door when you're using it. Always.
11. The Quiet Car Is Meant to Be Just That — QUIET
If you're in search of a place to unwind during your train ride, Quiet Cars are available onboard many corridors and short-distance trains. Phone calls are not allowed and all portable devices must be muted or used with headphones to avoid disturbing others. This restful atmosphere is the perfect place to get away for a while and seating is first-come, first-served.
12. Keep Your Shoes On While Walking Through the Train
You're allowed to walk about the train as often as you'd like. Just make sure to watch where you're walking onboard the train between cars. The safety plates often shift and pinch when the train is in motion. You don't want to be the victim of a freak accident while trying to enjoy your bucket list vacation. You'll also find that it takes a bit to find your balance due to the lurching of the cars as you're walking through them.
Did you know 90 percent of our customers book an overnight train journey? It's all about embracing the experience.
13. Traveling Overnight? Reserve a Sleeping Car Room
On long-distance journeys, the most comfortable way to travel is by reserving a Roomette or Bedroom onboard the train. Keep in mind that all Dining Car meals are included in your booking, so are hot showers, complimentary bottled water, soft drinks and ice, and hot coffee. You'll also have a dedicated Sleeping Car Attendant (remember to tip them).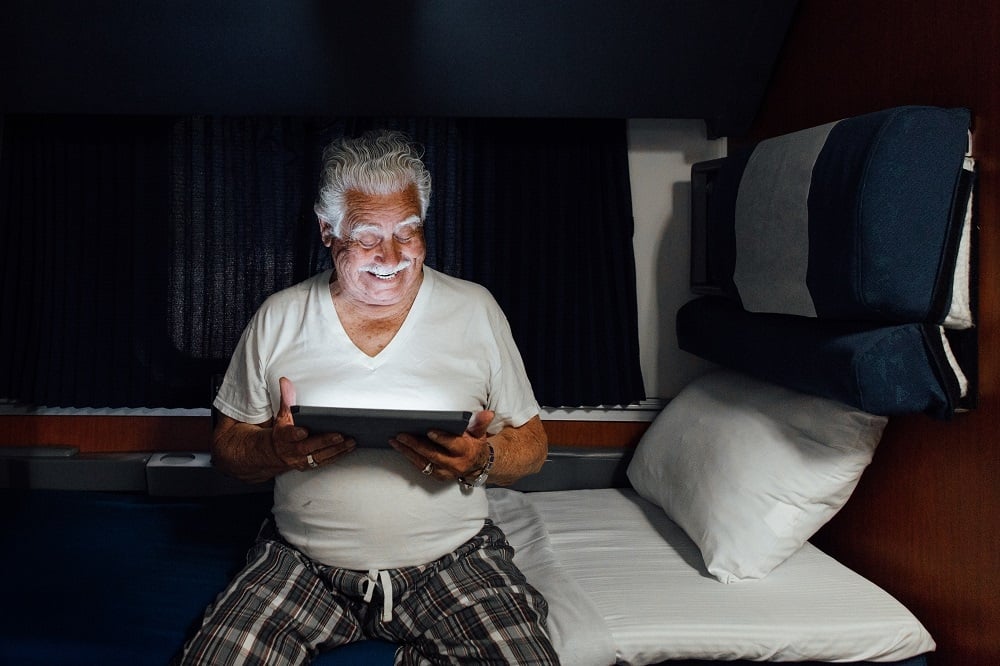 14. The Best Views
If you're traveling West, you'll experience the best views on the right side of the train. Traveling East? Be sure to sit on the left side.
15. Relax and Enjoy the Journey
Taking a train vacation is the experience of a lifetime. It's something you need to do for yourself to truly appreciate. Once onboard, sit back, relax and enjoy the journey ahead.
Still trying to decide which train vacation to book? Why not check out our FREE brochure?