4 Reasons to Take the Train to America's National Parks
By Amtrak Vacations
Sunday, April 16, 2017
Read time: 3 minutes
While the reasons to visit America's iconic national parks are abundantly clear (think epic scenery, bucket-list excursions and one-of-a-kind activities), choosing how to get there is not always as straightforward. To celebrate National Park Week, we bring you 4 reasons why taking the train is an unforgettable way to journey to America's national treasures.
1.  THE TRAIN EXPERIENCE
Repeat train travelers often wax poetic about the nostalgic charm of the long-distance rail journey - watching the scenery roll by while sipping a drink, enjoying a fine meal in a formal dining car, or simply relaxing with a good book.  With panoramic views, comfortable accommodations and great food, riding the rails can indeed be a vacation experience in and of itself. Head to the observation car for front row seats to views not accessible by vehicle, or relax in your room and daydream about your adventure to come.
2.  THE HISTORIC CONNECTION
The connection between train travel and the US national parks goes back over 100 years, with the early railroads playing an instrumental role in getting the first national parks - including Yellowstone and Yosemite - their official status, in 1872 and 1890 respectively. Today, you can retrace the footsteps of early explorers Lewis and Clark aboard Amtrak's Empire Builder, as the train makes its way through spectacular destinations including Glacier National Park. Or ride Amtrak's majestic Southwest Chief for an unsurpassed journey through historic lands to the breathtaking natural wonders of the Grand Canyon.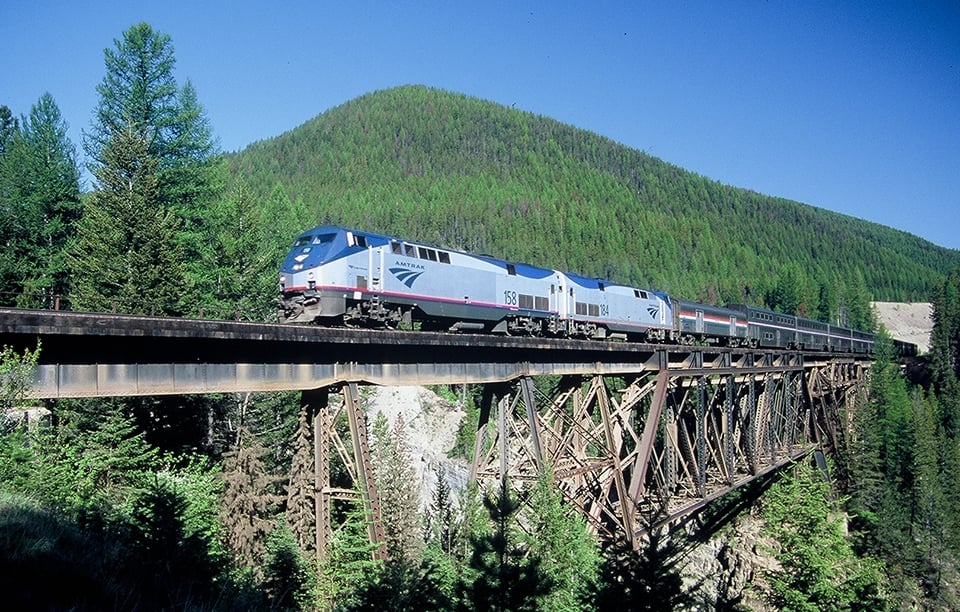 3.  FRONT DOOR ACCESS
Some of the most popular national parks, including Glacier National Park and the Grand Canyon, feature train stations just steps from their entrance, so your journey literally begins as soon as you get off the train. And many national park rail vacation packages include accommodations inside the parks and activities custom-designed with the rail traveler in mind. On some routes, Amtrak, in partnership with the National Park Service, brings aboard volunteer guides with maps, props and information on the passing regional historic and natural resources, further enriching the travel experience for passengers. The successful program, called Trails & Rails, has grown over the years to now include 595 volunteer guides who have donated 70,000 hours of time, reaching over 500,000 passengers.
4.  TRAVELER FRIENDLY
Trains are traveler friendly, offering a relaxing, inclusive experience for even the most discriminating traveler. For families enjoying sleeping accommodations aboard the train, there's no need to worry about meals, rest stops or where to spend the night. Solo travelers can unwind in peace and quiet, or move about the train and meet new friends. Using Amtrak Vacations to plan, organize and book a national parks rail vacation relieves the stress of coordinating schedules, itineraries, and car and plane snafus.
With over 50 unique itineraries to the most popular US national parks, Amtrak Vacations offers customized vacation packages for every type of traveler, including families, solo-travelers, train buffs, nature-seekers and adventurers alike. Sit back, relax and enjoy the opportunity to reconnect and spend quality time as you make your way to America's national parks!
Ready to embark on your next rail adventure? Call us today or request a free quote! REQUEST QUOTE