What to Expect Onboard a Long-Distance Amtrak Train
By Amtrak Vacations
Tuesday, June 22, 2021
Read time: 5 minutes
With Amtrak Vacations, our long-distance routes traverse some of North America's most beautiful and remote regions not accessible by car, plane, or bus. Planning and booking a long-distance rail vacation has never been easier!
With Amtrak Vacations, planning and booking a long-distance rail vacation has never been easier! Our long-distance routes traverse some of North America's most beautiful and remote regions not accessible by car, plane, or bus. The combination of breathtaking scenery, the diversity of places to get off the train and explore—from bustling cities and treasured national parks—and riding on multiple routes, makes for an extraordinary travel experience. Most people want to get from Point A to Point B as quickly as possible, but riding the rails is about so much more than simply arriving at your destination. It may not be the fastest mode of transportation, but it is certainly the most memorable.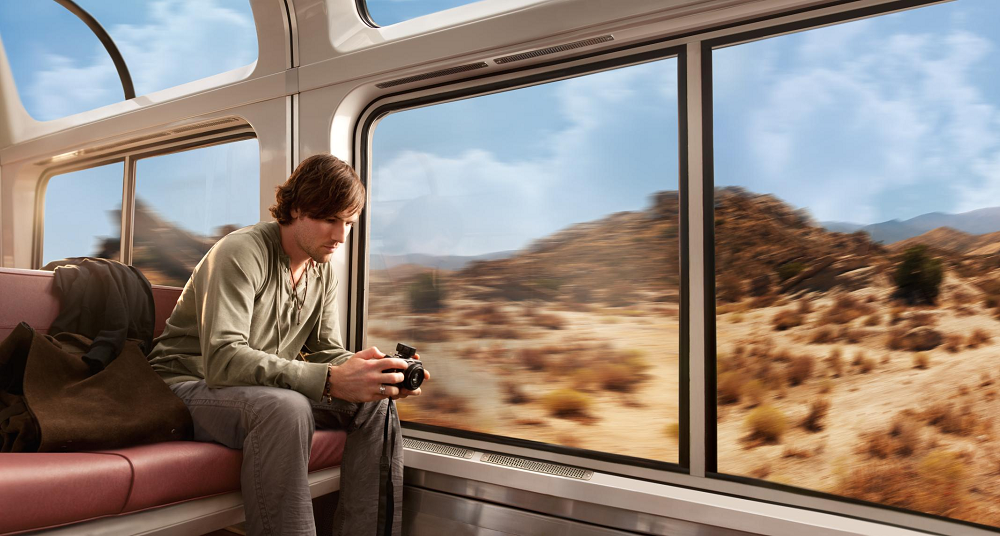 Here's what you can expect onboard a long-distance Amtrak train, and some tips for making the most of your experience.
If you've never been on a long-distance train vacation, Amtrak's options for private sleeping rooms may seem confusing. Many of the questions travelers often ask are, "Is there a shower onboard?", "Will my room have a private bathroom?" and "How does a Roomette or Bedroom convert for sleeping at night?" Below, learn the ins and outs of the Sleeper Cars, from Roomettes and Amtrak's Accessible Bedrooms to single-story Viewliner cars to the double-decker Superliner bedrooms for families of up to four.

Accommodations on trains west of the Mississippi.

Accommodations on trains east of the Mississippi.
Amtrak's private rooms and onboard accommodations provide long-haul travelers with the choice of a Roomette, Bedroom, Bedroom Suite (two adjoining bedrooms) that can accommodate one to four people, and Accessible Bedrooms. In a Roomette, daytime seating converts to beds at night. Electrical outlets, climate controls, reading lights, a small closet, and a fold-down table are all within easy reach. Bedrooms are larger than Roomettes and offer a sink and vanity with enclosed toilet and shower facilities.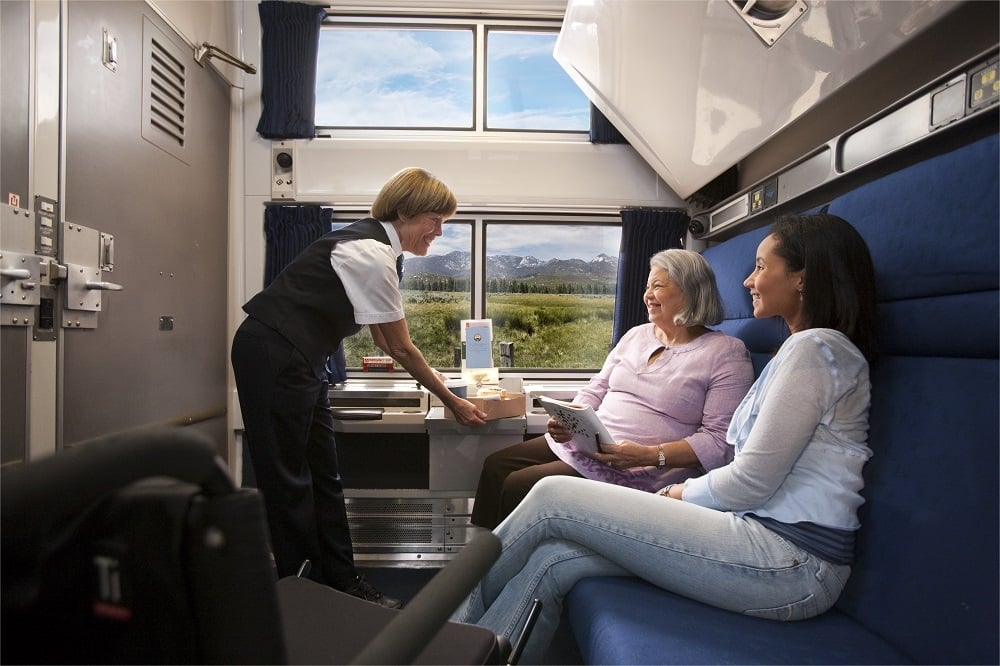 Spanning the width of the train car, Amtrak's Family Bedrooms are a cozy option for a family of four. Each Family Bedroom comes with two sets of bunk-style beds, a sofa, and two reclining seats. This more spacious room gives mom and dad (or grandma and grandpa) their own personal space, but more importantly, their own bed separate from the kids. Amtrak's Bedroom Suites are made up of two bedrooms opened up for a combined space. Roomy and comfy, and equipped with two landscape windows, the Bedroom Suites come with two in-room toilets, two showers and are a great option for a family or group of four friends. Bedroom Suites feature everything the Family Bedroom includes, plus a private sink and vanity, a private toilet and shower, and a comfy armchair.
When you choose to upgrade to Amtrak Sleeper Service, benefits include:
Daily meals for each passenger in the room
Fresh linens and towels
A personal attendant to offer you bottled water or coffee and turn-down services
Personal climate controls
Reading lights
Comfortable daytime seating
Experience what's it's like to sleep onboard a long-distance train with our Northern Rail Experience, Wonders of America by Rail, Grand Canyon Discovery, Glacier National Park Express, and USA and Canada Rail Experience. 
Ever-Changing Scenery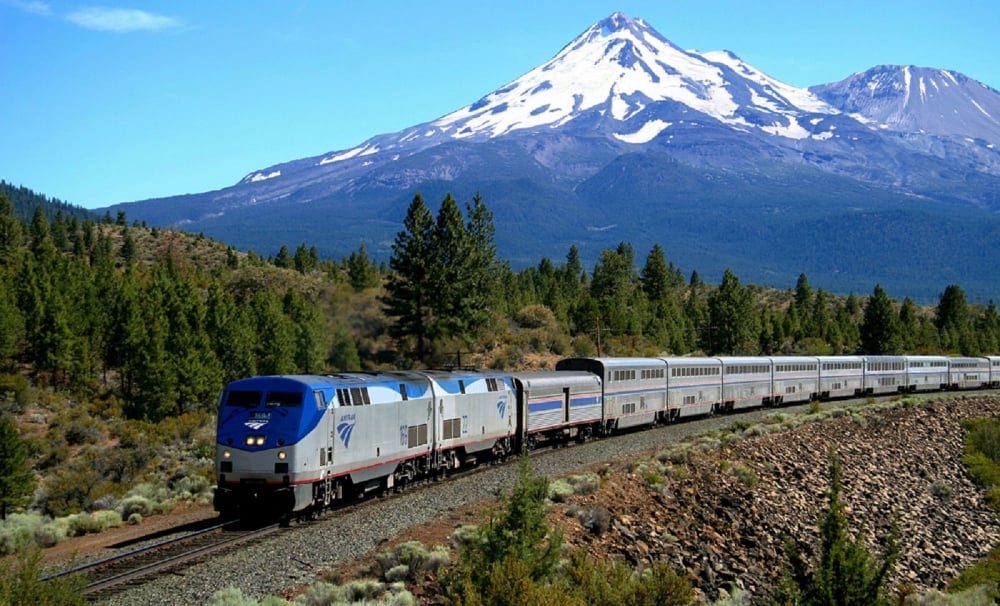 One of the greatest joys of riding an overnight train is that someone else does the driving while you get to take in the ever-changing scenery outside your window. Train travel is the most laidback way to see the beauty of North America, allowing you to sit back, relax, and enjoy the view. From mountains, forests, seascapes, and valleys to the vast, open plains, bustling cities, and secluded regions, you'll have the opportunity to experience sights that are rarely seen by anyone except passengers on long-haul trains. 
The Observation Car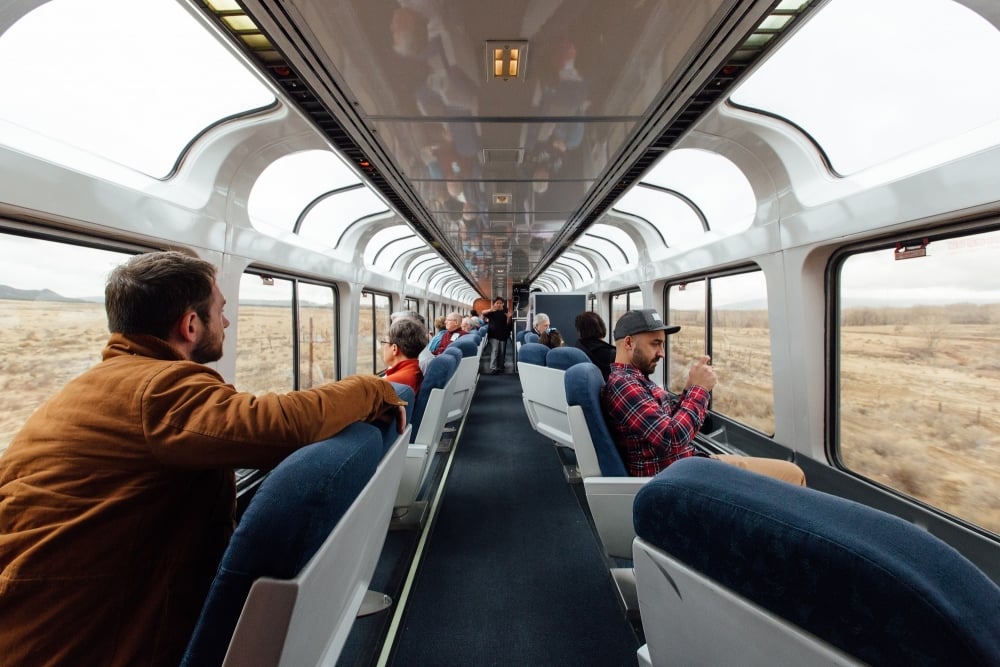 Speaking of ever-changing scenery, the Observation Car is the best place to appreciate the views! Observation Cars are part of Amtrak's double-decker trains that run long distances mainly west of Chicago. With floor-to-ceiling windows, these "sightseer lounges" truly bring the wonders of the passing landscape to a whole new level. All passengers are allowed to enjoy the Observation Car, which features single seats, double seats, family-style seating, and even tables to enjoy your snacks, play board games, or use your laptop. Because of the incredible views, grabbing a seat on the second floor of the train is a favorite for all passengers, including first-time and seasoned riders, and those who want to capture great photos.
The Dining Car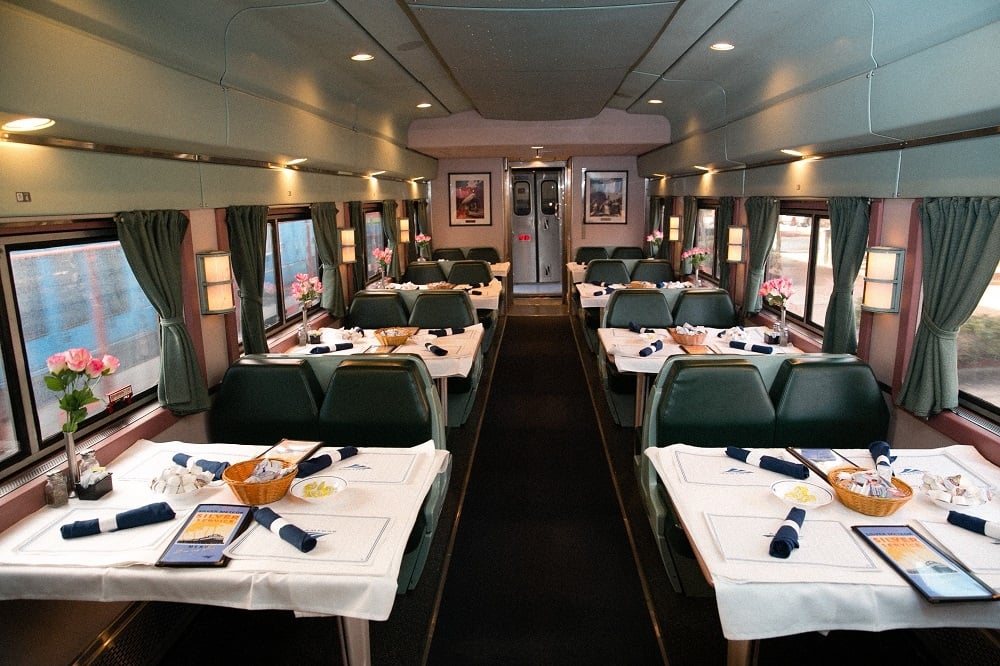 Although you can bring your own food and non-alcoholic beverages on board the train to consume at your seat, if you want to purchase food, Amtrak offers a selection of snacks (chips, fruit, yogurt, candy, pizza, and alcoholic beverages) and meals in both the Lounge Car and the Dining Car.
For passengers who purchased accommodations in a Sleeping Car, meals are included. Traditional dining service is provided in the Dining Car on the Auto Train, California Zephyr, Coast Starlight, Empire Builder, Southwest Chief, Sunset Limited, and Texas Eagle (between San Antonio and Los Angeles). Breakfast, lunch, and dinner are served. As an exclusive offering, customers in Private Sleeping Rooms enjoy complimentary meals throughout their journey. Customers on routes with traditional dining service can make reservations for lunch and dinner — served in the Dining Car or by complimentary in-room service.
*Effective June 23, 2021, the Dining Car will offer communal seating, providing a unique opportunity to dine with a fellow rider. 
Traveling on a long-distance train journey is something everyone should experience at least once in their lifetime. There really isn't any better way to discover and experience North America.