5 Patriotic Fourth of July Train Vacations
By Amtrak Vacations
Tuesday, June 27, 2017
Read time: 4 minutes
There's no better way to celebrate the birth of our nation than taking the train to a patriotic U.S. destination!  From fireworks and parades to American history reenactments and walks, many cities across America keep up the celebration all year long, offering something special for the entire family.  And you can add even more American nostalgia by taking the train, soaking up some of the iconic sights of our great country along the way. These 5 vacations may be just what you're looking for to celebrate July 4th and have some summer fun!
From the White House and the Capitol building to the Jefferson, Lincoln and Vietnam Veterans Memorials, Washington, DC is a true celebration of American history. Home to numerous museums, including the Smithsonian museums and the Museum of Natural History, as well as historic homes and grand gardens, the patriotic sightseeing options here are virtually endless. Spend four days exploring the city, and at night, tour the monuments as they are lit up to show their full glory.  And all summer long, Washington, DC hosts a wide range of concerts, festivals and special events for Independence Day fun and beyond! Click here for more information.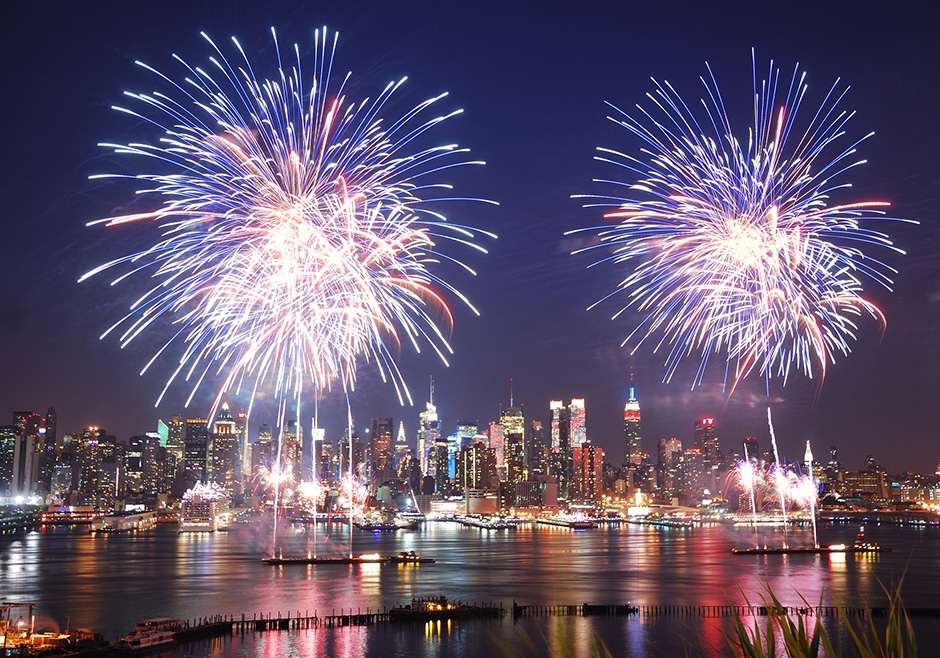 New York City is a patriotic place in every sense of the word, from its iconic monuments and classic architecture, to its world-class museums and memorials.  This getaway lets you see it all at your own pace, with an included New York City CityPASS® that includes admission to the Empire State Building Experience, the American Museum of Natural History, the Statue of Liberty and Ellis Island, and the 9/11 Memorial and Museum, among other sights. And there is no shortage of special summer events happening all over the city, from fireworks shows to concerts, festivals and other celebrations. Click here for more information.
Visit four patriotic cities in one epic train vacation! From the historic streets and neighborhoods of Boston to the gleaming monuments of the nation's capital, there's a good reason this trip is called 'American Heritage.' In Boston, experience walking in the footsteps of Paul Revere, John Adams and other Patriots of the Revolutionary Era as you tour the famous Freedom Trail. Take in iconic views of the Manhattan skyline from the Empire State building or cruise out to see the Statue of Liberty in New York. In historical Philadelphia, see the place where the U.S. Constitution, our nation's founding document, was brought to life. Visit the fascinating museums and impressive monuments of Washington DC. And enjoy taking the Amtrak train between destinations for a truly relaxing and nostalgic experience! Click here for more information.
Music, fireworks and BBQ are a way of life for the cities of Charleston and Savannah on July 4th, and throughout the entire summer season. Enjoy these two wonderful cities steeped in Southern history on this six-day journey, starting in Charleston, where you'll feel as if you are stepping back in time as you stroll along avenues lined with antebellum mansions and well-preserved churches. Explore museums, plantations and colorful gardens and learn more about local history with a sightseeing tour that will bring you to the iconic Rainbow Row and the Battery. Then take the train to beautiful Savannah and immerse yourself in traditional Southern hospitality, architecture and cuisine. Enjoy a sightseeing cruise of Savannah's harbor, and a hop-on, hop-off tour of Savannah's top attractions. This wonderful trip through America's south will be a patriotic journey you won't soon forget! Click here for more information.
With loads of special events, fireworks shows and concerts, Independence Day is a huge celebration in the Crescent City! And the city always offers a glimpse into its range of historic influences, from its stunning architecture, tasty cuisine and jazz music roots. Take a scenic cruise on the Creole Queen Paddle Wheeler and experience the timeless beauty of Southern Louisiana on a swamp boat. This four-day getaway also includes a New Orleans VISITicket Multi-Day Power Pass, which gives you access to more than 25 popular "NOLA" attractions, like the Audubon Aquarium, Mardi Gras World, the National World War II Museum and so much more! Click here for more information.
Ready to embark on your next rail adventure? Call us today or request a free quote! REQUEST QUOTE