Journeys From A Rail Insider: Glacier National Park Onboard the Empire Builder
By Amtrak Vacations
Wednesday, June 6, 2018
Read time: 7 minutes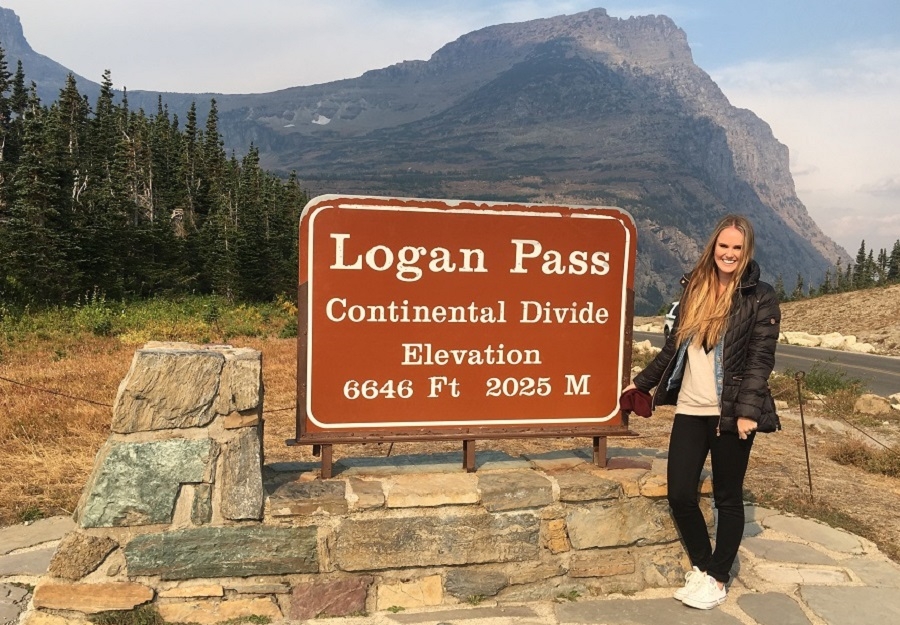 Have you been outside lately? Not simply outside your front door, but the great outdoors—more specifically Glacier National Park? It's life changing. Covering an astonishing 1,012,837 acres, the enchanting park is home to more than 130 lakes, 68 different species of animals, snow-capped peaks, plunging waterfalls, dense forests, and glassy azure-colored lakes. In 1910, Glacier National Park was protected during the budding of the American conservationist movement and ranks up there with the Grand Canyon, Yosemite, and Yellowstone as the country's most awe-inspiring natural wonders. Here's what naturalist, John Muir, had to say about Glacier National Park when trying to explain how vital it was: "Give a month at least to this precious reserve." Of course, he was right. A visit merits at least four days. This remarkable place is not one that you rush through to experience. You take your time. You soak it all in. And then you return to discover it all over again, because "Going to the mountains is going home." Just ask our Partnership Marketing Manager, Kaitlyn Audley, from our Laguna Hills, California office. She can tell you all about why Glacier remains one of North America's most popular national parks, and one of Amtrak Vacations' top sellers. Last September, she had the opportunity to take a rail journey onboard the iconic Empire Builder and discover the park's grandeur firsthand. Interested in planning a trip to Glacier National Park? Follow along as our Rail Insider shares the best experiences: how to get there, where to stay, what to see, and everything in between.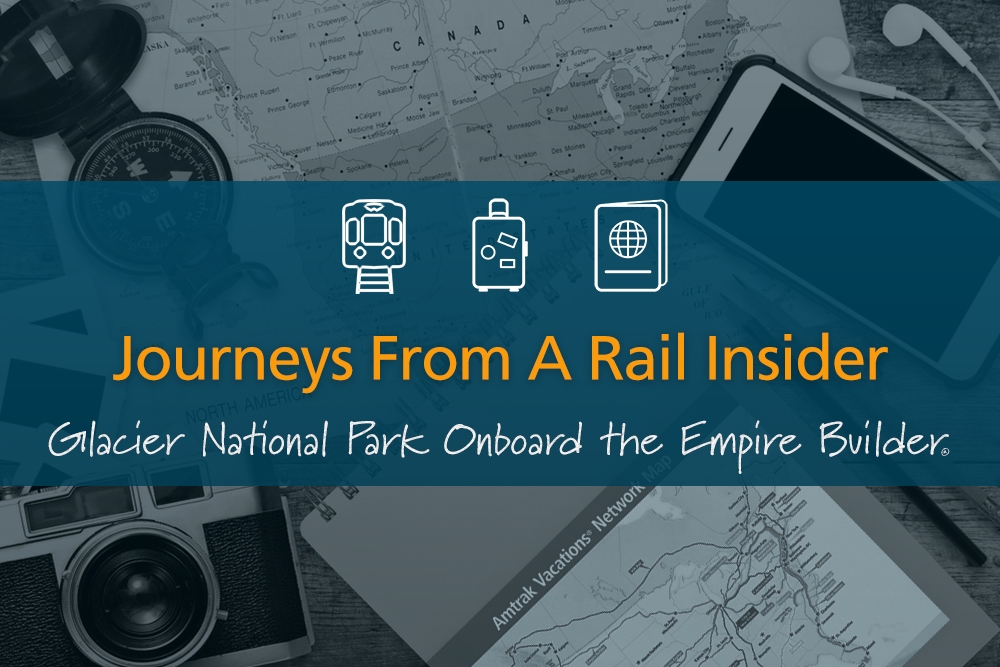 Amtrak Vacations: Tell us about the experience onboard the Empire Builder to Glacier National Park. Kaitlyn: My experience onboard the train was amazing! One of my favorite things was traveling through states that I'd otherwise never see—Idaho, North Dakota, and Minnesota. This particular route traverses through all kinds of landscapes, including bustling cities, vast plains, and rugged mountain ranges. The trip I took was essentially the Glacier National Park Express done in reverse. Typically, the trip departs from Chicago (or from any of the 500 Amtrak stations throughout the country), but we left from Seattle and conveniently arrived right outside the park at the East Glacier MT station. Taking the train to the park was an adventure in itself, and a relaxing way to see the stunning terrain of Rocky Mountains and golden prairies.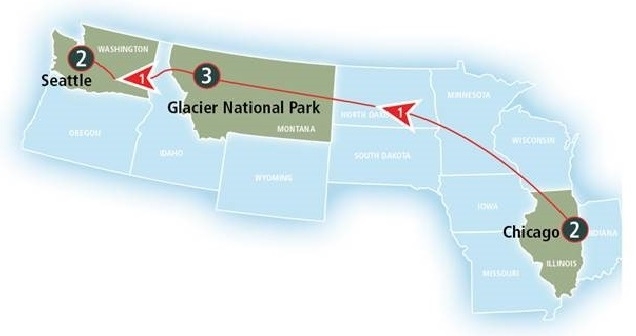 What was the best part of this trip to Glacier National Park? What stood out? The moment the Empire Builder left Seattle's King Street Station, I knew I was in for a treat. Onboard, the train left the majestic Mount Rainier behind as it traveled east. From the Observation Car, I watched as the sun set and learned all about the region from National Park Service volunteers as part of the Trails & Rails Program. Some more highlights from the train include seeing beautiful rivers, mountain peaks, and lush forests. Once I arrived in Glacier National Park, I loved learning all about the history during an interpretive, all-day tour of Going-to-the-Sun Road.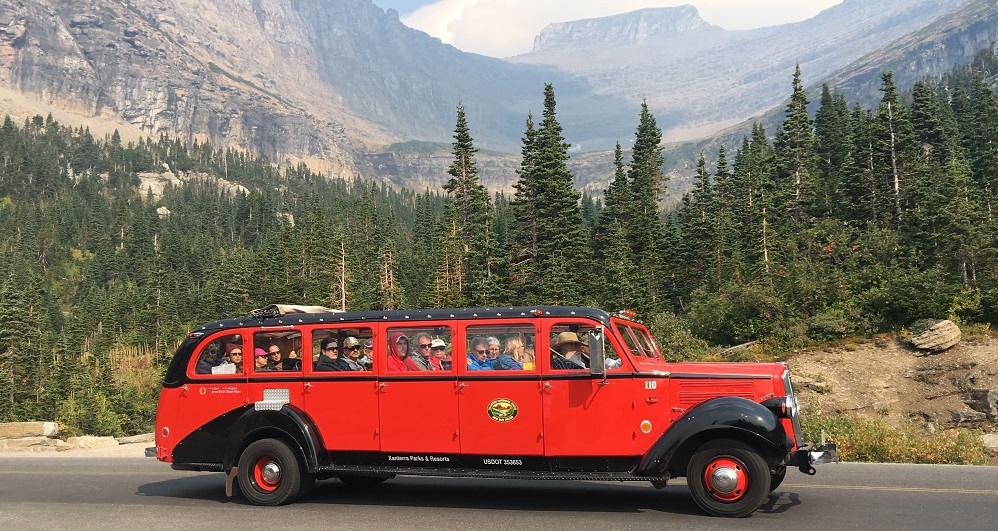 One of Glacier National Park's historic Red Buses.
Our guide, who is part of the Blackfeet tribe, told us the story of the park and its inhabitants from thousands of years ago, and shared valuable insights about the park's cultural relevance. There were plenty of opportunities to wander at my leisure and capture great photos of the landscape! You could also choose to take an interpretive tour on the vintage 1930's Red Buses. The park's fleet of 33 buses is considered to be the oldest touring fleet of vehicles anywhere in the world.
What are three things you feel our clients would love about this trip?
ONE: The diversity of the destinations! All the destinations they can visit on this Glacier National Park Express rail vacation are so diverse, so at the end of the trip you know that you've really experienced it all.
TWO: They'll really enjoy learning about the history of Glacier National Park—from the lodges to the Blackfeet heritage. Then there's all the gorgeous sights to see, especially along the 50-mile-long Going-to-the-Sun Road! Running east to west through the park, and crossing the Continental Divide at Logan Pass, this beautiful stretch of road deserves an entire day (or more) of exploring. You'll discover glacier-carved lakes, scenic valleys, rocky mountain peaks, hikes, waterfalls, and views like you've never seen before. It's truly one of the most scenic roads in North America.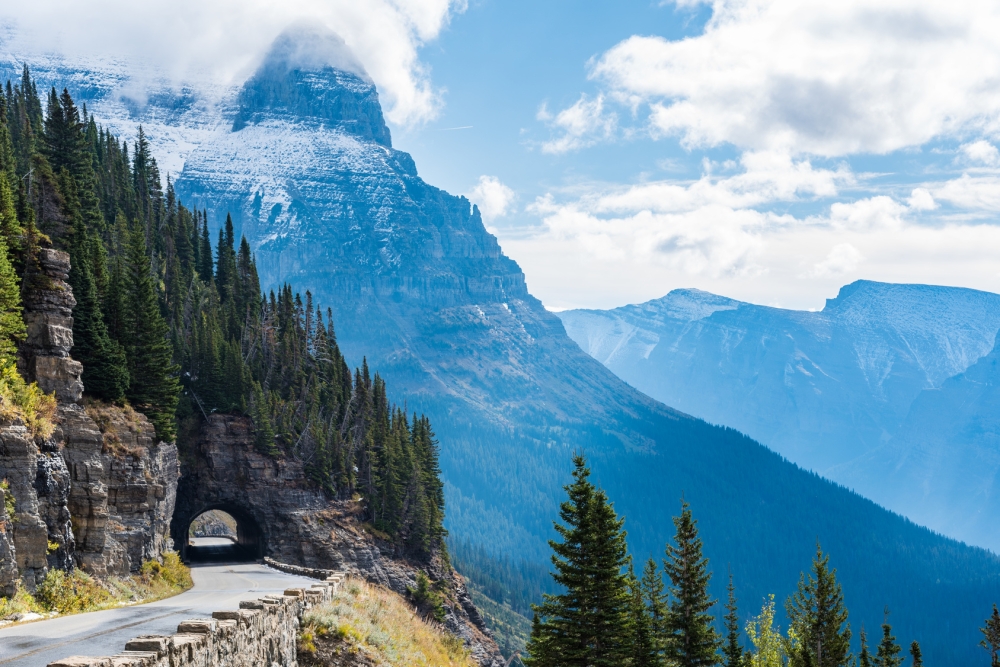 The unforgettable Going-to-the-Sun Road.
THREE: Taking the train to Glacier National Park was not only a priceless experience, but it was also incredibly convenient! In fact, the East Glacier MT station was just a short distance (less than a mile) from the Glacier Park Lodge where I stayed. The historic lodge is actually modeled after a Swiss chalet and features western charm, a heated outdoor swimming pool, and a nine-hole golf course. All of the park's lodges were originally developed as major stops along the Great Northern Railroad. Even if you don't stay in one of them, it's still a fun experience to check out their lobbies, porches, and gift shops.
What season did you travel? What was the weather like? We traveled mid-September and the weather was in the high 70's the entire time. If you ask me, it was absolutely perfect! During one of the sunny days, I visited the Many Glacier and Two Medicine regions of the park, and was treated to some of the most majestic scenery, like Two Medicine and Swift Current Lakes.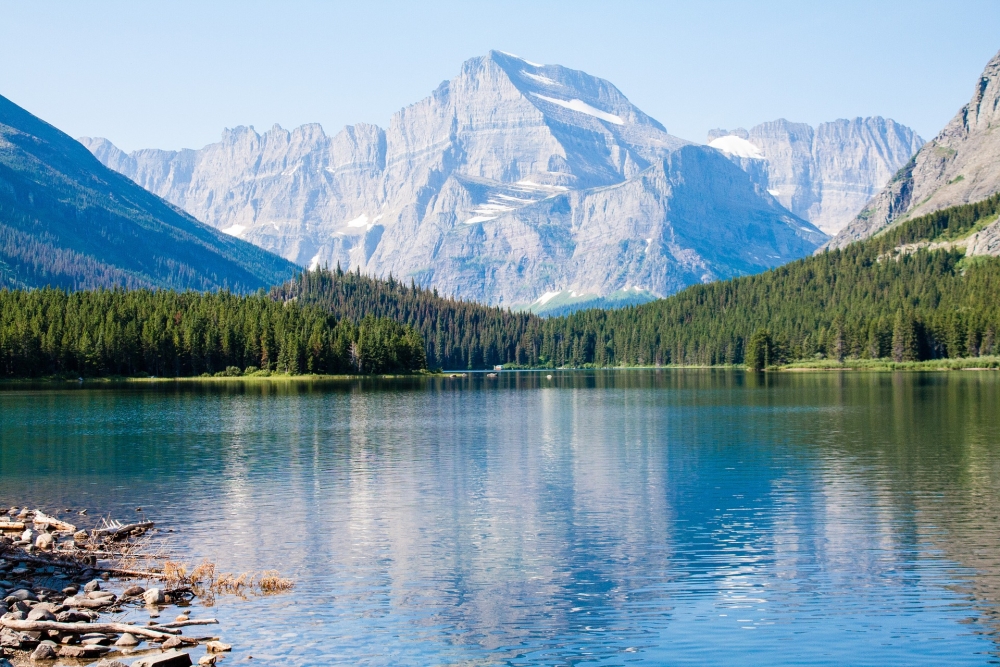 A peaceful sunny afternoon at Swift Current Lake.
Do you have any tips or advice to offer those considering taking this Glacier National Park Express rail vacation? The mountains are calling ... and you must go! This trip really was a bucket list experience and there's no better way to get there than by rail. It's something that you have to experience for yourself to understand just how memorable and exciting this kind of vacation to one of North America's most beloved national parks is. When you're in the park, I suggest walking over to East Glacier Park Village for a piece of huckleberry pie from a local cafe. No trip to Montana is complete without pie. Stop by the visitor centers located near the park entrances at Apgar, St. Mary, and Logan Pass. Expert rangers are on hand to let you know about current conditions, road and trail closures, and ranger-led activities. Each visitor center features varied exhibits and its a great place to grab a park map. One of the park rangers I spoke with mentioned that there are only 25 active glaciers remaining in the park out of an estimated 150 that existed in the region in 1850. According to the National park Service, those remaining few could disappear by 2030! One last thing: Grizzly bears roam around here in abundance, so remember to keep your distance and respect their space in the wild. You may also spot deer, marmots, mountain goats, big horned sheep, and bald eagles.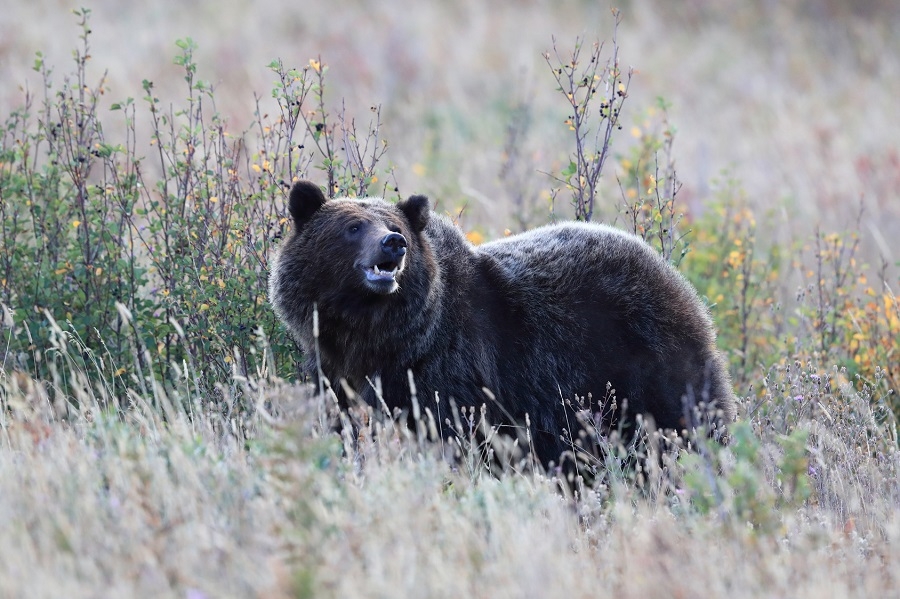 Always view wildlife, especially grizzly bears, from a safe distance.
Is there anything you wish you'd known before traveling onboard Amtrak to this treasured national park? Even though I took some great photos of the scenery, I wish I would have brought a camera other than my cell phone! There are many photo opportunities within the park and you don't want to miss out on seizing the chance to take capture photos of your adventure.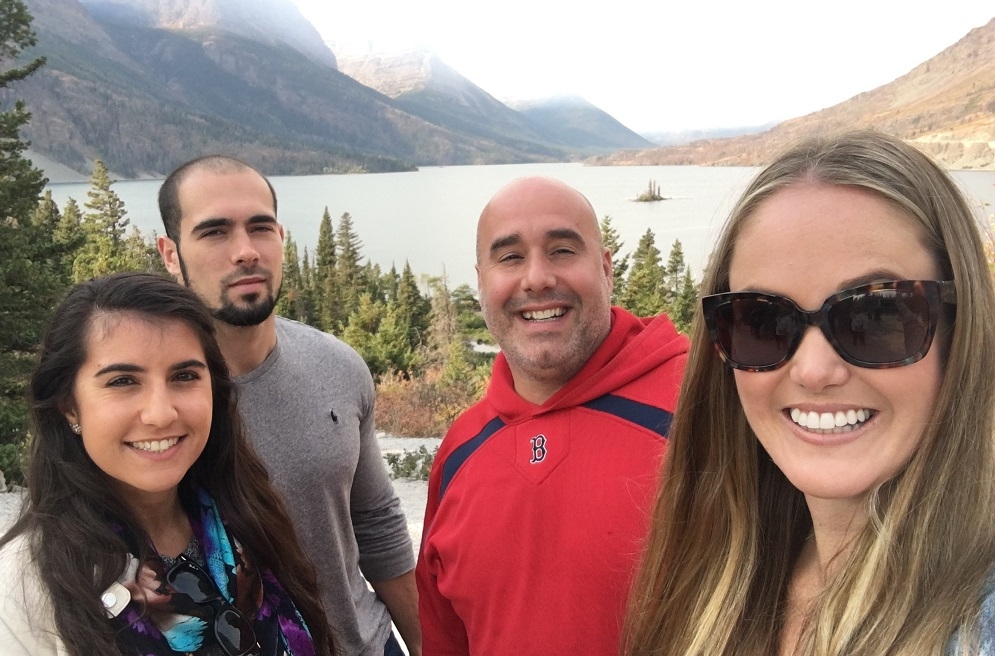 A traveler's favorite: Wild Goose Island.
Are there any more highlights from this trip that you'd like to share? I had the chance to experience cities like the locals do! In Seattle, I really enjoyed walking around Pike Place Market, seeing the gum wall in Post Alley, strolling around The Seattle Arboretum and Discovery Park, and trying all the fresh, delicious seafood of the Pacific Northwest. Want to enjoy coffee like a true Seattleite (native)? Visit Cafe Allegro, Seattle's first coffee shop, for an amazing Americano. While visiting Chicago, I couldn't leave without eating the famous deep-dish pizza. It didn't disappoint! Wild Goose Island in Glacier was also a favorite. There's a reason it's one of the most photographed spots in the park! There are many overlooks along Going-to-the-Sun Road where you can stop and take in the views.
From your experience not only as an Amtrak Vacations employee but also as a first-time traveler to Glacier National Park, what stood out to you about the overall experience of an Amtrak Vacations trip? The number one thing that stood out is just how easy and convenient everything was. From boarding the train to the location of the hotels and all the scheduled sightseeing tours, I felt very well taken care of. There is so much to see, do and experience during a rail vacation like this that you're going to want to do it more than once. Your first train journey and visit to Glacier will surely leave you wanderlusting for more adventures.
Here are some more top vacation picks to Glacier National Park from our Rail Insider, Kaitlyn Audley:
Grand National Parks with Grand Canyon, Yosemite, and Glacier National Park
Glacier National Park and the Canadian Rockies by Rail
Glacier National Park Family Adventure Essential Glacier National Park