3 of the Most Scenic National Parks in Winter
By Amtrak Vacations
Monday, November 6, 2017
Read time: 3 minutes
Get a fresh perspective of our famous national parks and avoid the crowds with a winter train getaway! Take in the cool weather splendor at your own pace, including the striking winter-wonderland landscapes, plentiful wildlife sightings, and fun wintertime activities. Enjoy some time away from it all, whether you're enjoying a brisk walk or relaxing with a warm beverage. These three national parks offer visitors unexpected winter surprises, and of course, those breathtaking views!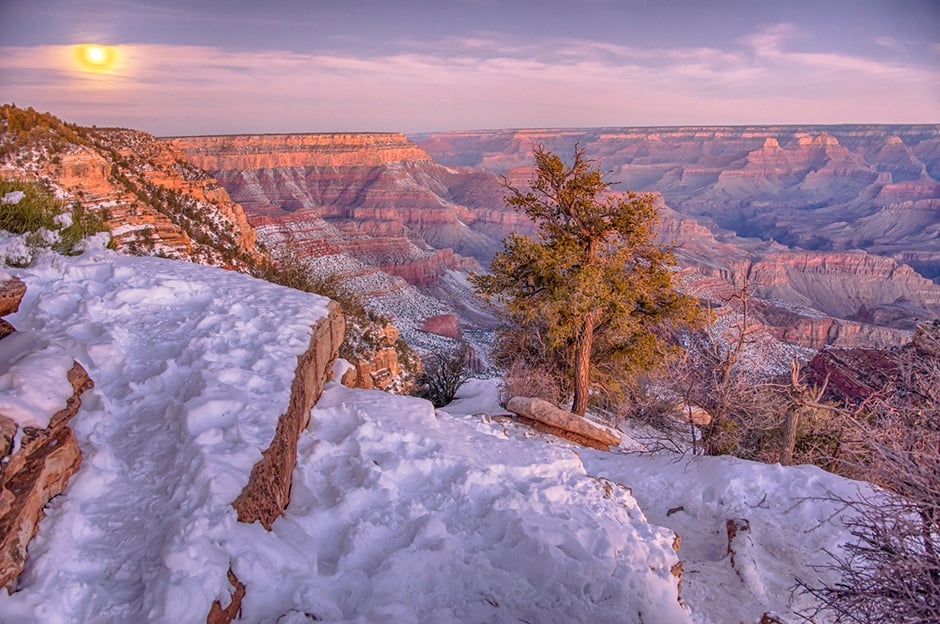 Always a spectacular sight to behold, Grand Canyon National Park becomes even more magnificent in the winter, when a coat of bright white snow lightly blankets the rim, contrasting brilliantly with the earthy, layered tones below. Besides this wondrous scene, perhaps the best part about the Grand Canyon in winter is that you get to experience it without the usual crowds during the warmer seasons. Get ready for a scenic trip of a lifetime from the City of Angels to the majestic Grand Canyon on the Rails to the Grand Canyon! Board Amtrak in Los Angeles and enjoy the picturesque scenery of the great American Southwest as you venture over to Arizona. Your next stop is the magnificent Grand Canyon! Go where no automobile has ever gone before aboard the Grand Canyon Railway and travel down into the Canyon's South Rim for a guided tour of many lovely sights. Spend another full day exploring everything this amazing wonder has to offer and bask in the fresh mountain air and gorgeous scenery.
Yosemite National Park never fails to put on a show, especially in the winter when the famous vistas are dramatically dusted with snow, and waterfalls and streams sparkle with ice. Main roads that access Wawona and Yosemite Valley are open all winter long, and visitors can even enjoy ice skating in an outdoor rink. Experience Yosemite National Park and much more on the Rocky Mountains to Yosemite vacation, a spectacular 8-day rail journey from Denver to San Francisco, with stops in Salt Lake City and Yosemite National Park, offering amazing views and breathtaking scenery. Explore Denver and find out why it has earned the moniker of the "Mile-High City." Get in tune with the natural world and commune with nature in Rocky Mountain National park. Sightsee in Salt Lake City and learn all about its fascinating history. Visit the largest and richest copper mine on Earth, the Kennecott Canyon Mine. Then spend a whole day getting up close and personal with the amazing sights of Yosemite National Park.
Rocky Mountain National Park, and all of Colorado for that matter, really comes alive in the winter, with recreational activities galore and no shortage of incredible sights. The park spans over 300 miles of hiking trails and wildlife, with stand-outs including drives through Trail Ridge Road and the Old Fall River Road, with their stunning aspen trees and icy rivers prominently on display. Feel like you are on top of the world with crests over 12,000 feet and many overlooks to view this incredible alpine world. Experience the wonder of the Rocky Mountains on the Denver Rocky Mountain Getaway, where you'll spend two nights in Denver, and enjoy sightseeing tours of Denver and of Rocky Mountain National Park. This is the perfect winter escape! For more information on all of Amtrak Vacations national park vacations, CLICK HERE. To learn more about experiencing our amazing national parks by train, join our free WEBINAR, this Wednesday, November 8!