Journeys From A Rail Insider: Beauty of Yellowstone National Park in Autumn
With Amtrak Vacations, discovering North America is an adventure unlike any other—taking you places you never imagined. It's not simply all the exploring you'll do once arriving in a particular destination that makes traveling by train so memorable. It's all the sights and moments that will pass in between.
Our Digital Marketing Specialist in our Laguna Hills office, Alex Cortez, would agree. Last Autumn, he took a train journey to Yellowstone National Park with some colleagues to experience what it's like to travel onboard Amtrak's iconic California Zephyr to one of the most beautiful—and revered—national parks in the country.
Each year, Amtrak Vacations gives our employees the opportunity to take a trip by rail to the destinations included in one of the packages we offer. The insider knowledge they gain on these trips is incredibly invaluable, and are by no means merely all expenses paid vacations. They benefit us as a company, but they also greatly benefit our customers—YOU!
In this post of Journeys From A Rail Insider, we'll give you a behind-the-scenes look at the complete onboard experience, hotels and dining, and even all the must-see and do's once you're in the park.
Amtrak Vacations invites you to follow along as our Rail Insiders take you to the most unforgettable parts of North America.
Tell us about the experience onboard the train from Emeryville to Salt Lake City. What stood out to you about the train and the views?
Alex: This was my very first time on an overnight Amtrak train, and I think the highlight of my experience was the entire trip overall. I rode the California Zephyr through the Sierra Nevada mountain so the views in the Observation Car were absolutely phenomenal! In fact, I spent most of my time sightseeing in the observation car while reading, listening to music, or chatting with other passengers about their adventures. What makes these observation cars, located on the second level, so awesome is that they feature floor to ceiling windows, which gives them their nickname "sightseer lounges."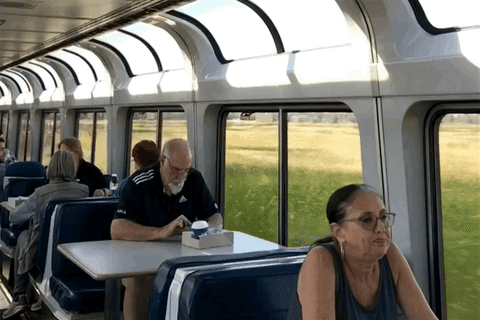 The passing landscape from the Observation Car
Thanks to the incredible views, snagging a seat in the car is a favorite for both first-timers and long-distance train veterans. Seating is first-come, first-serve, and no matter where you sit you'll find yourself daydreaming out of the window at the passing landscape. Below the observation car is the café car, which sells snacks like pizza, chips, beer and wine. Speaking of food, part of the long-distance train experience is all about dining, and the Amtrak Dining Car did not disappoint. There are four-person tables (to promote conversation with fellow travelers) with linen napkins, white tablecloths and stainless-steel cutlery.

Amtrak's Dining Car
The food was so good! For lunch, I enjoyed my chicken quesadilla next to a lovely couple from the Midwest.They were on their second cross-country train trip. For dinner, I had the pasta, some wine, and ice cream for dessert. The best part? Looking out of the dining car window and seeing the sights go by as you chow down.

A glimpse of the cuisine onboard
What was the best part of this trip to Yellowstone National Park?
Yellowstone National Park is a special place all around. But the best part of my trip was the day tour! From 9 a.m. to 5 p.m., we toured the park with a fun, knowledgeable guide onboard a comfortable van. With plenty of fascinating stops, our guide provided commentary on the park's history, sights, wildlife, weather and geology. There truly is no shortage of things to do in Yellowstone. Ideally, you should give yourself several days or a week to explore the vast landscape. The hot springs alone are worth a visit to this national treasure. The jewel of Biscuit Basin was definitely the Sapphire Pool. It may look inviting, but this pond of brilliant blue can reach temperatures of 200-plus degrees! A little too hot for a soak.
My main advice? Go beyond Old Faithful, and stay on boardwalks.

The stunning Sapphire Pool in Biscuit Basin
What are three things you feel our clients would love about this trip to Yellowstone National Park?
ONE: They'll absolutely love the scenic overnight train experience on the California Zephyr, once dubbed the "most talked about train in America." Even the bus transfers included on this trip offered scenic views. I took the California Zephyr from Emeryville, just outside San Francisco, and disembarked in Salt Lake City. Along the way, we travel through the Suisun Marsh, the Great Central Valley, made a stop in Davis, and were offered views of the Yolo Basin, Cape Horn, the American River, and rode over the Long Ravine Bridge. Before reaching Salt Lake City, the train stopped in Reno.
TWO: Having dinner on the 10th floor of the Joseph Smith Memorial Building at The Roof in Salt Lake City was not only delicious, but came with spectacular panoramic views of the city, surrounding region, Temple Square, and the Salt Lake Temple.

View of the Salt Lake Temple from The Roof restaurant
THREE: The Yellowstone guided tour! There are many people who have only heard of the legendary Old Faithful geyser. But this national park contains some of North America's wildest landscape just begging to be explored. Hot springs, wildlife such as moose, elk, bison, grizzlies, and wolves, and incredible you-have-to-see-it-to-believe-it photo opportunities, like strolling through Artist's Painpot, an easy walk from the parking lot to a boardwalk through a hydrothermal area. Yellowstone is one place where the buffalo roam. And they are never in a hurry—grazing on grass growing near the road or strolling along the middle of it. A few times throughout this trip, we had to stop and wait for the herd to pass.
Yellowstone is the only place in America where bison have thrived since prehistoric times and are the last-known wild bison population in the world. Today, there are about 5,000 of these gentle giants in the park. Just make sure you keep your distance while admiring them; they're wild animals. At six feet tall and weighing about 1,000 pounds, you wouldn't want to get too close!

Bison in Yellowstone
During which season did you travel? What was the weather like?
I visited Yellowstone in autumn. Although the park is beautiful year-round, with thinning crowds and colorful foliage, fall was such a great time to explore. From watching the setting sun sparkle on the Madison River to the golden aspen leaves rustling in the wind and the active, easy to spot wildlife, there's no denying it's charm. For those who want to visit the park when there are less visitors, consider going during the off-season, outside of summer. Fortunately, most visitors stick to a few top sights such as the Grand Prismatic Spring, Boiling River, and Lookout Point, so it is possible to avoid the congested spots, especially if you are an early bird or explore after peak hours (before 9 a.m. and after 3 p.m.).
Typically, crowds last until October if the snow holds off. During my trip, the weather was very pleasant, minus one cold and rainy evening.

Upper Yellowstone Falls
Where did you stay while visiting Yellowstone?
I stayed at the Gray Wolf Inn, just two block's from Yellowstone's West Entrance. So convenient and great for adventures of all kinds! This hotel is directly across the street from the Grizzly and Wolf Discovery Center, which is pretty cool when you hear the wolves howling. It's also walking distance to plenty of restaurants and shops and features clean, quiet, spacious rooms and heated underground parking.
Do you have any tips or advice to offer those considering taking this rail journey?
Pack light and don't forget to bring your camera! There is so much to see, experience and capture both on and off the train.

This is the Continental Divide. On one side of the divide, water flows to the Gulf of Mexico. On the other side it flows to the Pacific Ocean.
From your experience, not only as an Amtrak Vacations employee but also as a first-time traveler to Yellowstone, what stood out to you about the overall experience of an Amtrak Vacations trip?
Amtrak Vacations created the perfect rail vacation to Yellowstone! It fit all of my needs and wants, especially considering this was my very first time on a long-distance train journey and my first visit to the park. They took care of the rail, accommodations, sightseeing and more! Other highlights that stood out to me were how friendly and accommodating Amtrak's staff were, the better-than-expected food options, and how sitting with strangers during meals onboard was not awkward at all but kind of fun! I've been looking forward to my next trip ever since returning home.
Here are some more top vacation picks from our Rail Insider, Alex Cortez:
Grand National Parks with Yellowstone, Yosemite and Glacier National Park
Yellowstone National Park Discovery