Featured Vacations of the Week
By Amtrak Vacations
Monday, July 17, 2017
Read time: 3 minutes
Whether you're a history buff, a music fan or just love riding Amtrak, we have the perfect vacation for you. This week we're highlighting vacations to some of our most popular destinations across the United States. Which destination would you like to explore?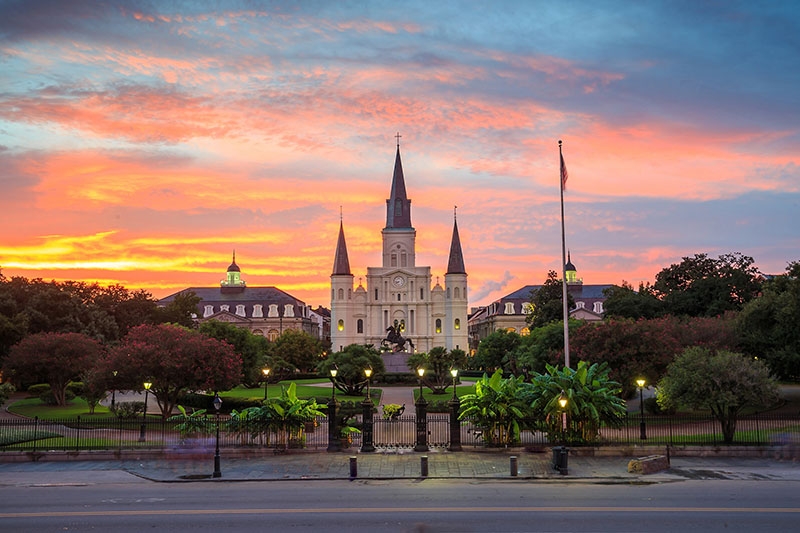 New Orleans
is full of mystic voodoo folklore, tasty Creole cuisine, and stunning historic architecture. Explore the French Quarter and let the festive jazz music serenade you. Take a scenic cruise on the Creole Queen Paddle Wheeler and experience the timeless beauty of Southern Louisiana on a swamp boat. Your getaway also includes a New Orleans VISITicket Multi-Day Power Pass, which gives you access to more than 25 popular "NOLA" attractions, like the Audubon Aquarium. Special Offer Spotlight: Save $50 when you book this trip for two. Click HERE for more details.
Venture from the breathtaking great plains of the Midwest to the serene waters of the Pacific Coast on this scenic rail journey from Chicago to San Francisco, with a stop in Seattle. Enjoy the landscape as you travel along major portions of the Lewis and Clark trail. Explore Seattle on a hop-on, hop-off sightseeing tour. Discover the sights of San Francisco. Spend some quality time in two majestic parts of Northern California: Muir Woods and Sausalito. And, then you'll head back to the "Windy City" on board one of most beautiful train trips in all of North America. Click HERE for more details.
This nine-day rail journey is perfect for music lovers! Launch your vacation in Chicago and explore its famous blues scene and all the popular sites. Then, enjoy a relaxing train ride as you head to Memphis, the birthplace of Rock 'N' Roll. Don't forget to soak in the lovely landscape along the way. See all Memphis has to offer, including Elvis's famous mansion, Graceland. Your last stop is New Orleans, the birthplace of Jazz. Treat your ears and palate with a jazz brunch at the famous Court of Two Sisters restaurant. Take in the picturesque sights of New Orleans and the French Quarter from the deck of an old-fashioned paddle-wheel boat. Special Offer Spotlight: Save $150 when you book this trip for two. Click HERE for more details.
Learn what truly makes the Canadian Rockies so majestic on this amazing journey through four different cities. Tour all the splendid sites of Toronto, including the lovely Harbor front. Get up close and personal with Niagara Falls with a ride on the lake. Sip local delicious wine during a winery tour. Explore the spectacular natural treasures of Jasper National Park. Experience breathtaking views of the Rockies during the ride of a lifetime aboard the Jasper Skytram. Visit one of the largest expanses of ice and snow south of the Arctic Circle, the Columbia Icefield in Banff. Click HERE for more details.
Ready to embark on your next rail adventure? Call us today or request a free quote! GET FREE QUOTE